---
BW12 NEWS UPDATE

---
Dear Border War MILSIm fans,
Summer is in the full mode and we have started allready actively working on Borderwar 12. We would like to share with you first basic information.
Event will take place on 17.-19.4.2020
Hardcore registration will start on 4.8.2019
Normal tickets vave 1 2 3 and Last moment tickets will be available on Sunday 8.9.2019
Event will as well have a strictly limited amount of players to keep game quality in field.
If you are unsure if you should go for normal registration or HC Fans preregistration make up your mind as there is quite a push for the event allready now and we had received quite a lot emails with requests for tickets allready now.
We had 1375 players on waiting list for BW11 neverthe less we dont plan to expand number of tickets available compared to BW 11 on BW12 - Focusing on Quality over Quantity!
Scenario is in the development currently.
We are working allready now on updates based on your valuable feedback.
Planned updates will be posted here and on the forum.
Stay tuned for news! And enjoy the summer!
With best regards yours BW Crew
---
BORDER WAR 11 RESUME

---
Dear BW Fans,
Just in the case you missed official press release and game resume you can find it here: BW 11 Wrap Up
---
THANKS ALL PLAYERS

---
Dear MILSIMers,
I hope you have arrived home OK.
Thank you for participating in BW11 - we have seen and spoke to many happy players arround.
There are hundreds of photos on the way.
We would like to as well thank all sponsors G and G, ICS, LCT and MILTEC for their support.
Also big thanks to all people working on the BW11 for last 11 months, governmental institutions, natural park, and local municipalities to let us in.
As the BW11 was in a completely new setup we need to analize it properly to make further improvements and finetunings for BW12, please dont hessitate to post your feedback on the feedback questionaire you will receive shortly by mail.
Your feedback is allways very important and we would like to hear it.
Thank you again for joining us in this new experience.
With best regards,
Yours BW Crew
---
BORDER WAR 10 - WINNER IN POPULAR AIRSOFT AWARDS
---
Dear MILSIMers, Border War Fans, our Loyal Supporters,
Thanks to your votes we won for the 7th time in the row in the Popular Airsoft Awards 2019 in:
Category 13 – Best Event with 500+ people in 2018 – with Border War 10 The Beast Slayer
Thank you again for your support trust and loyalty we will do our best for you so we can win as well in the future.
Yours Border War Crew
Winners of all cathegories are visible here: http://playerschoice.popularairsoft.com/
---

GAME PREPARATION UPDATE

---
Dear MILSIMers,
We would like to share with you current preparation status, we are allmost finished with ticket processing and currently there is small ammount of tickes that needs to be covered. There are some tickets left for some of the fractions, you can check in section tickets. All players with covered ticket should visit a forum to join their player fractions.
Roster is Up and currently being assebled
Waiting list to use in the case there will be small tickets increase is below.
Registration Status for BW 11.
R

egistration Record - Wave 1 and 2 and Partly 3 were used in less tan 5 minutes. Entire game almost booked out in less than 7 minutes.
Currently we are almost booked out - Wave 4 is on

Yours BW Crew
---
BW 11 UPDATE
---
Please have a look in section tickets for more details on BW 11 pricing update overall information.
Update to previous year Quick Summary:
New Game Area and New Offzone, Dynamic Game Play Enhanced by New Game Props, Significantly Less players Allowed to join the event in order to improve the quality, TF SF fraction Introduced for very advanced MILSIM players for the first time, Improved Game Quality based upon player feedback, More Game Props than last year, Player Vehicles allowed after submiting in relevant Forum Section and Approval, Big Game Base tents have to be as well Approved. Stricter Dresscode for TF (Helmets Mandatory as Well Uniform Camo Restrictions)
Arrival to the Offzone from Thursday allowed for HC registration and Normal Tickets
Arrival to the Offzone for VIP Tickets and Trustee Teams from Wednesday Allowed (VIP and Trustee Teams Will be Chronoed and Registered Allready on Wednesday)
Get to the Base Shuttle Service For Players in Given Times to Get to The Base Easier - Offzone during the Game Days will be like parking area only, Players shoud Sleep in game only
Carvans and Campers - will have designated area for parking different to the passanger cars parking
Ticket Include 1x Non Alcoholic Beer Voucher
Merchandice update:
Adventure Menu Survival Packs (Includes 2x Meal including Heaters Available in allready in Registration)
Menu 1 (First Meal Beef Goulas and Second Meal Garden Style Chicken) 810g of Food in Total plus 2 heaters and 1 Spoon (6 Years Warranty)
Menu 2 (Pork With Dumplings and Picant Meat Mix) 810g of Food in Total plus 2 heaters and 1 Spoon (6 Years Warranty)
(You would be able as well to later on Preorder Adventure Menu for the event throu us for exellent Prices)

Plastic Shoulder Patches - With Campaign Name - The Pestilence Blade 2019 will be available only on Spot - In Registration is Possible to Preorder BW11 Veteran Patch
BW Cups and Mugs only on Spot
BW Jacket is for BW11 the BW MILSIM VIPER Jacket (Black With Red Embrodiery)
HC Registration Players will Receive Special BW11 HC Patch
VIP Ticket Addons Will Recive BW11 VIP Special Patch
Game Side T Shirts Available for: TF, Insurgents, Kraken, Corp, MEDTECH, SAB
---

New Feature - VIP Add on to the ticket Includes - Awailable in Limited Numbers

---
VIP Add On Includes:
VIP Chrono
VIP registration
Goodies bag - Sponsor Gifts and Special BW Patch
Possible Arrival to the Offzone on Wednesday (Normal - HC Registration and Wave 1-4 BW11 Tickets have arrival Possible from Thursday Only)
VIP - Get Your Gear to Base with your Car Voucher - Permits 1x Drive in to the base - Unload Time max 20 minutes - Afterwards reparking on VIP Parking Area next to the Game Area.
VIP - 1x Get Your Gear from the Base with your Car Voucher - Loading Time max 10 Minutes (Pack Your Gear Upfront)
Drive to the Bases and Game Areas will be cordinated by Security VIP Tickets will as well receive suggested times for drive in.
---

BW11 PATCHES - FIRST PROTOTYPES

---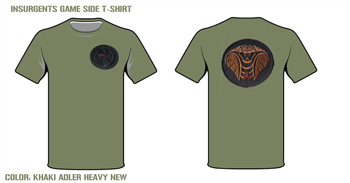 BW Momorablia Jacket - Viper Tactical - Black With - BW MILSIM logo in red front right Breast
---
BW11 FIRST INFORMATION
---
Dear Border War Fans
Our 10th anniversary is history and preparation for Border War MILSIM 11 The Pestilence Blade are on full speed.
Scenario will be shortly released and will bring us to the Mawar island somewhere in the pacific with its fictional scenario.
We have in the meantime analyzed properly your feedback and came to the conclusion it's a time for few major changes.
Firstly the next step is to focus on increasing the game quality.
We have mastered in past ten years - the chrono, the registration process, the logistic, lot of game props, POI management, game set up etc.. that's all you know but what I see as next step is to focus more on the game quality itself.
Currently there have been quite some improvements in the game itself already but I would like to focus on the quality event even more.
This is what it will mean in practice.
New Game area
We have a completely new game area which enables us to bring in a completely new game experience. It's a massive woodland game area no smaller than the one used on BW10 but elsewhere with completely new base setup and features possible. Game area is not far from the orriginally well known one.
MILSIM Enforced
We want to assure that participants understand right what we are doing - there for we would strictly enforce sleeping in game, simply parking area and off zone will not be next to the bases and players in game will be in game. Caravans and camping belongs to the camp.
Special Forces Fraction will be introduced for the first time. It will be a fraction for players who will be deployed with all on their backs for duration of the entire game. Designed for Expert and HC players only.
Less Means more
One of the key elements to bring in more game quality is a decrease of number of players. It sounds a bit special we are not tring to commit a commercial suicide, but it is true and safety and quality are on first place for us. We have prediscussed this step allready with our trustees and we would like to strictly limit and decrease number of players somewhere to the Border War 6-7 size (Which is quite big still), which will enable us to produce a different set up of game platform and more custom build type of missions in the new terrain enabling players to have a great experience again but in completely different way, I would like to bring the game more to the players and to make them more involved, on command level as well on player level.
In practice a TF and Guerrilla will have significantly decreased number of player tickets - Small fractions will not be touched by reduction that much but still they will. But expect TF and Gueriila Reduction by 50%.
Waiting list will be reintroduced as well.
Stricter dress code
TF fraction will be for BW11 Helmet as mandatory - in order to improve the military feeling (Desert, Multicam and Woodland, French and Marpat type of Camo is allowed)
Strict focus on player safety
We will measure all replicas and make sure they are within our game rules - no dangerous 180 m/s replicas or 4.5 jouls HPA nonsence - will be allowed!!! Safety First!!!
Teams and Individuals violating game and event rules will be strictly banned from the future events.

Tickets and Pricing
Wave 1 wave 2 and Wave 3 tickets will stay as they are with some minor increase based on development on exchange rate and inflation and main registration will start in first half of September.
Compared to BW11 to BW10 there will significantly hundreds of tickets less offered and sold.
Fractions:
Joint Operation Task Force – Sea Fury – Helmets Only – Marine Expedition Units – Traditional Balanced MILSIM and Airsoft Experience
SAB – Concordian Special Assault Brigade – JOTF Sea Fury - auxiliary Special Forces Fraction – Helmets Only. HC MILSIMERS welcomed (This is not about looking special and sleep on the parking- this is all on the back deployment – ask BW Black Ops veterans for imagination on the forum) 100 places
Insurgents – The Cobra Brigade – Traditional Balanced MILSIM and Airsoft Experience
MEDusa TECHnologies – Green Dress Boys – Traditional 50%LARP/50%MILSIM
KRAKEN Corp – Black Dress Boys - Traditional 50%LARP/50%MILSIM
CN Mission in the Ebong See – CN Chemical Warfare Engineer Unit Traditional - 50%LARP/50%MILSIM
Civilians – LARP players only 100% LARP
If the fractions will get full you will have to wait until the tickets will be covered and unpaid deleted
Unpaid tickets will be deleted regularly in shorter periods after 30 days of payments compared to usual process.
Hardcore Fan Registration Day - Open to All Players Who Want to make sure they will get ticket untill they are available!
In the case you are nervous if you manage to get your ticket for the 11th Edition and getting to Border War 11 makes you wake up in the middle of the night.
There is a solution for you – a new feature – Border War Hardcore Fan Limited Ticket, this tickets will be offered in limited amount for fans who want to be in game for sure and want to make sure they will have a ticket, because due to decrease of the tickets offered there will sadly be people who will not get in the game. This ticket will come together with a special Patch you cant get anywhere else than on the registration.
This tickets will be introduce for apx. 25% higher price than the wave 3 in already in JULY – simply if you wish to be in - for sure you can use the option of one day for hardcore fan registration - all fractions will be opened for registration based upon their fraction limits for one evening.
This is a new game feature and offer to players- there for we are not sure how it will be used currently.
Of course remaining tickets after the Hardcore Fans Registration processing will be offered standardly in Wave 1,2,3 concept as always. If some fractions slots will be before the main registration already used, for example, small game sides or SF fractions etc. than they will not be offered for normal registration day.
There will be strictly 30 days to cover the hardcore ticket fees afterwards the unpaid tickets from hardcore registration will be deleted - registration will be set for normal Wave 1,2,3 process in September with normal pricing with less tickets deducted after HC fans registration day from the overall player limit.
That's all what we would like to communicate for now. New Game Area, New Game Play, More Quality, High Class Player Services – how else than with full force to start a new decade J
Mike von Bulow
Border War MILSIM Founder and Managing Director
---
BW10 PRESS RELEASE
---
Thank you for joining our jubilee event. Please find attached short summary of the event here in one of the Press Releases: HERE

Yours BW Crew
---

Ministry of Defence a strategic partner of Border War MILSIM events

---
Border War MILSIM just recently confirmed with Ministry of Defence of Czech Republic strategic partnership on BW9.

Ministry of Defence will be featuring a interesting program features during the event - so far not seen...
---

Border War MILSIM - Episode 7
Border War MILSIM - Episode 6
Border War MILSIM - Episode 5
---
Videos from Border War 1,2,3,4 and more...
| | |
| --- | --- |
| | You can see Border War MILSIM videos here. |